The Tawiah Family
Shirley Tawiah had a normal pregnancy, but Aiden didn't pass the newborn hearing screening. When they returned for a second screening, Aiden wouldn't settle down, so his parents were told further tests could be done later. Aiden wasn't her first child, so Shirley knew developmental milestones, but Aiden seemed on track when he started saying his first words at one. Yet as time progressed, Aiden's language development was reduced to mumbling.
It was only when Aiden was in preschool two-and-a-half years later that his preschool teacher suspected he wasn't hearing. When he was three, Shirley took Aiden to Doernbecher Children's Hospital for a full evaluation. The tests revealed that Aiden had a 70% hearing loss in one ear, and a 60% loss in his other.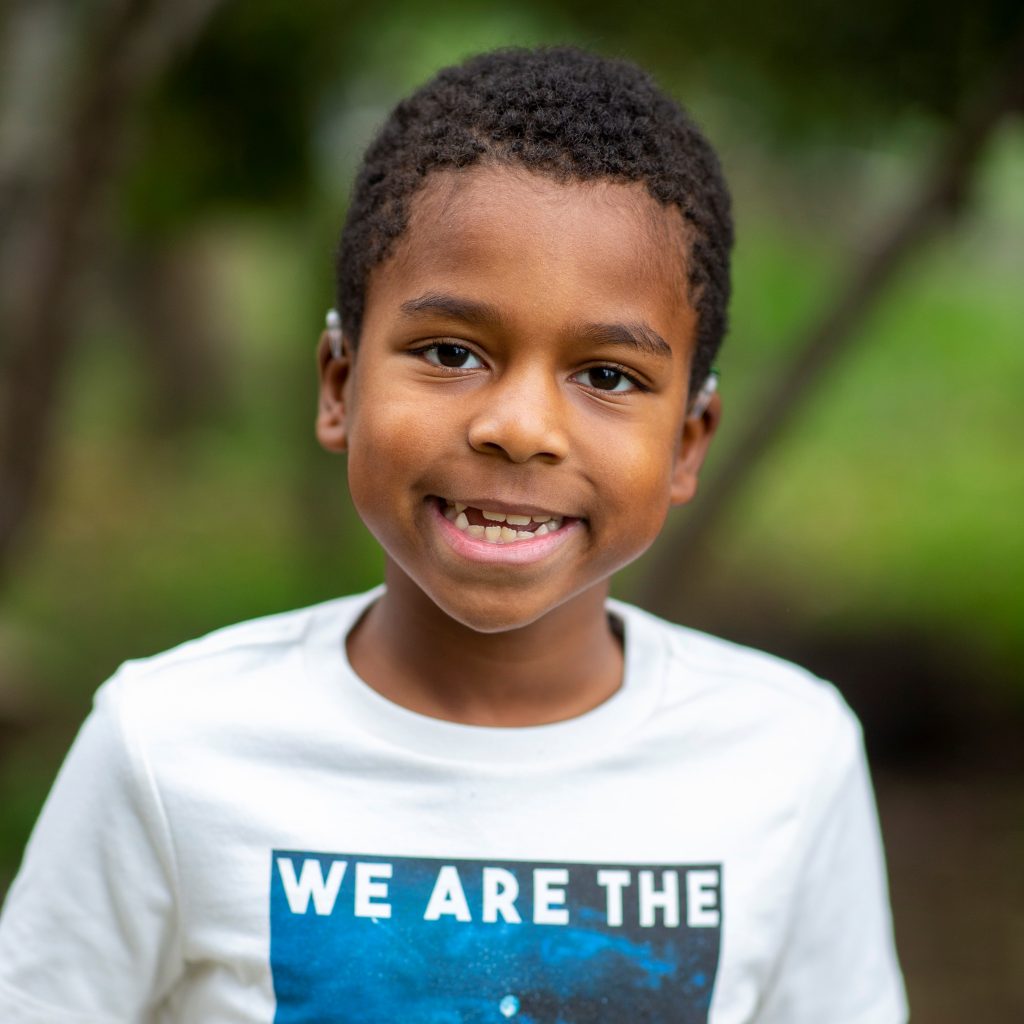 Despite having excellent health insurance, and Aiden being a perfect candidate, the family had to fight with their insurance company to get Aiden his first cochlear implant. Shirley and her husband Danny were introduced to Tucker Maxon when someone at OHSU gave them a pamphlet about the school. Overwhelmed by the diagnosis and fight with the insurance company, Shirley couldn't fathom commuting from their home in Beaverton to SE Portland for school. Instead, the family sent Aiden to Early Intervention and private speech therapy.
Shirley decided to register Aiden at Tucker Arts Camp when he was four. Shirley was so worried about Aiden on the first day that she sat in her car in the parking lot for an hour before leaving. Because Aiden can be stoic, she expected he would hold in his tears all day until she picked him up, but when she arrived he was happily playing with other children. She went home and told her husband that no matter the cost or distance, she wanted Aiden to attend the school. By fall, Aiden was enrolled at Tucker.
Aiden was in Michelle Proctor's preschool class that September. Aiden loved Michelle. That fall our Audiologist realized Aiden was only hearing 40% of what he should hear with only one cochlear implant, which was why he didn't have much speech. What words he did speak were so mumbled that no one could really understand him. Coming to Tucker, and finally getting his second cochlear implant, has been life-changing for Aiden. That is what Tucker Maxon does. Children with hearing loss who've slipped through the cracks find their way here and we help them catch up, and reach their potential. And Aiden's progress has been nothing less than amazing!
Can you please make a generous gift this holiday season to ensure that children like Aiden can learn to listen and talk?
Shirley is in awe at how wonderful the teachers are at Tucker. "Lynda Shaffer and Linda Goodwin are amazing! And Jerry is Portland-famous!" She says it makes a huge difference to have teachers who are experts on hearing loss work with Aiden. "Everything a child needs is at Tucker Maxon… It is all integrated. Aiden was like a sponge, and Tucker Maxon has filled him with all the tools he needed and wasn't getting…."
Shirley notes that "Tucker nurtures the academic, the artistic… he has friendships, and loves his teachers. It is a perfect combination. He loves this place, adores the 1-1 attention." Shirley says: "We found literally the perfect school for our son. We couldn't ask for more. Tucker has been like a family to us."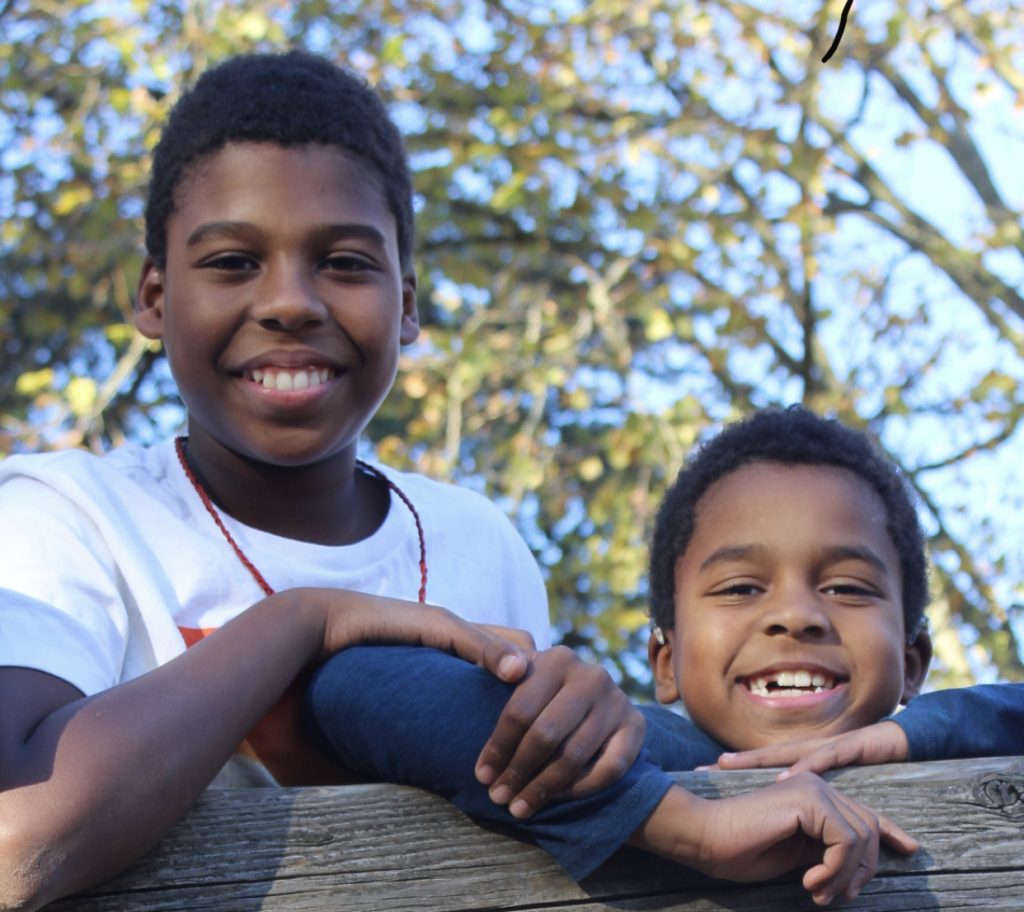 The Tawiahs were so happy with Tucker Maxon that they enrolled their typically-hearing son Gabe in the elementary school last year. They knew Gabe would benefit from Tucker's small class sizes and excellent teachers. Gabe is now thriving in our 5th grade class. For Shirley and Danny, having both their children at the same school was something they never thought possible. Once Aiden was diagnosed, they assumed that he would need to be in a different school. But as Shirley says, "Tucker Maxon is a school for everyone! It just happens to have a specialization in hearing loss."
Now in 1st grade, Aiden is obsessed with words that end in "tion" and collects them to tell Anne Smyth, his teacher of the deaf: "ExclamaTION! InformaTION!" As Shirley attests, "Tucker is giving him the best foundation. He is confident in who he is." Tucker Maxon has given the Tawiah family peace of mind, and an affirmation that they are going to be okay. As for Aiden? For a child who got off to a rocky start, the sky is the limit now!
However, not every child gets to benefit from a Tucker Maxon education. Many families cannot afford a private school to help their child. Over one-third of our families with deaf children rely on financial aid to be able to attend Tucker. Can you please make a generous gift this holiday season to ensure that children like Aiden can reach their full potential?
Thank you,
Shirley, Danny, Gabe, and Aiden
PS: Please make a gift today at tuckermaxon.org/contribute/donate/. In our 72 year history, we have never turned away a child with hearing loss because they couldn't afford tuition. Your tax-deductible donation helps us continue this legacy. By making a gift today, you can give children like Aiden the gift of hearing and speech
_______________________________________________________________________
Help Your gift has great impact:
$100 provides a complete audiology evaluation for a child who is deaf
$250 provides 15 individual tutoring sessions with a certified teacher of the deaf, and will be matched!
$500 provides new art, music or PE equipment for all our students
$1,000 provides nine therapy sessions with our speech language pathologist
$5,000 provides a year of early intervention services for an infant who is deaf
$10,000 provides annual tuition for a preschool student who is deaf
Matching Gift Challenge from our Board
Double your impact! Our Board of Directors will match your gift, dollar-for-dollar, up to $17,000 in this campaign! Please, help us meet this incredible challenge with your support today. Thank you in advance.
Click here to make a gift today.