Robin Baker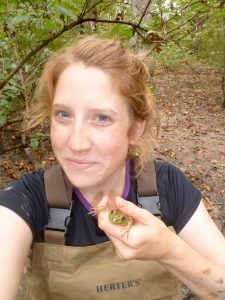 What is your name?
Robin Baker
How old are you?
26 years old
What city and state do you live in?
Portland, OR
What years and grades did you attend Tucker Maxon?
1995-1998.  I 'graduated' Tucker in '98, then my family moved to Idaho where I mainstreamed in 1st grade.
Did you have a favorite teacher or staff member?
There were so many staff members at Tucker that were instrumental to my early education, both by interacting with me directly and by coaching my parents in how to support me and help me be successful as an Oral kid (converse with me, ask open-ended questions). I have special memories and thanks for so many people from that era of Tucker, including Brigitte Frank, Gail Schiel, Chris Soland, and Arlie Adams.
What caused your hearing loss?
I was born with severe-to-profound hearing loss due to improper growth of my cochlear hairs. I've been told that it was caused by a mitochondrial defect, but I've never formally had that confirmed and don't have any other associated symptoms.
What kind of tools do you use to support your hearing today?
I am bilaterally implanted with Advanced Bionics (in '04 and '09) and now have the Naidia processor model. I also use several of the accessory components and processors from AB, including the waterproof Neptune (very useful in my line of work) and the ComPilot.
Do you use sign/ASL?
No, I do not use ASL these days and am exclusively oral. However, I still remember a lot of vocabulary since ASL was my first language, and I used it until I dropped it when I entered Tucker-Maxon at about 4 years old.
How has hearing loss impacted your life or the life of people close to you?
My closest friends and family have told me they often forget I am hearing impaired/deaf. They remember when I ask them to walk on my 'good ear' side, or try to talk to me when I have my implants off! However, I've seen a common theme among many of hard of hearing people's experiences, and that is the sacrifices our parents and guardians made to make sure we had the best resources and support to be successful. My family is no different. My parents moved my sister and I across the state so I could attend Tucker and I will be forever grateful to them for that decision.
What did you study in college, and/or what kind of work do you do, or want to do?
Generally, I am an ecologist. I attended the University of Idaho as an undergraduate where I majored in Biology with a minor in Natural Resources. In early 2018 I completed a Master's in Watershed Science with an Aquatic Ecology emphasis from Murray State University in Murray, Kentucky.
This October I completed a great field season as a biological field technician hiking around the woods in southwestern Washington collecting data on small mammals, beetles, ticks, and mosquitos for the National Ecological Observatory Network (NEON, www.neonscience.org. Check it out, it's your public ecological observatory and all the data is available for public usage and download!). This winter I will be taking courses at Portland Community College to finish a certificate in Geographic Information Systems (GIS; essentially digital cartography). I am looking forward to finding a permanent position with a water resources organization using my GIS skills in the Portland area.
Please share an accomplishment you are especially proud of.
Completing my Master's degree. It was challenging to move across the country, away from the Pacific Northwest for the first time, and my project itself was a very large and complicated experiment. By the end, I had collected, processed, and analyzed over 50,000 individual data points!
What is your favorite place you've traveled to?
I had the wonderful opportunity to study abroad with Semester at Sea while I was an undergraduate. Through that program, I was able to visit 12 countries while sailing on a ship with approximately 800 other undergrads. I had unforgettable experiences and learned something in every port, but I really enjoyed my time in Japan. Japan was surprisingly easy to navigate despite a (double, hearing impaired!) language barrier, had delicious food, and I had a great time exploring the country with my friends.
What do you look forward to most each day?
I'm a nature girl at heart, and I look forward to the signs of the seasons in each day: blooming of the flowers in the spring, busy bees and fresh fruit in the summer, colorful leaves in the fall, and crispness of the air and snowflakes in winter- although there is not nearly as much snow in Portland as in Idaho!
Please share something you learned as a student at Tucker Maxon that has stayed with you ever since.
I remember when I attended Tucker Maxon, we would often have a focus on a certain country, like Australia or Japan. We would learn about the culture, the animals, songs and skits from each country and I loved the cultural enrichment and learning. I still remember the song my class performed for our Japan unit that helped us learn the first three numbers in Japanese: Ichi Ni San or 'itchy' 'knee' 'sun' accompanied by us scratching our legs, touching our knees, and then raising our arms into a sun. So now I'll never forget those three numbers in Japanese!
Any words of advice for today's Tucker Maxon students (hearing impaired, typical, or both)?
Everybody is different in some way, and it's great to embrace that. A little humor goes a long way in making yourself and others feel comfortable with these differences. I think that most people will respond to differences, disability or otherwise, by how you frame and present it. Be open and comfortable about your hearing loss with others and they will follow your lead. That can be a journey in itself, but don't be afraid to advocate for yourself and your needs!